Your Company, The Musical
Two actors will chat with various participants from your office (typically, someone everyone knows like the CEO, Greta from HR, or Steve from Admin, alongside others) and absorb as much as they can about your company: What does the company do? Who does what? What's the office buzzword? (It's bandwidth, isn't it?) Office wide pet peeves? Based on your answers, they'll launch into an improvised musical about your workplace using their standout acting and singing skills. It's like Hamilton except it stars Steve, the beloved office admin!
meet your program leaders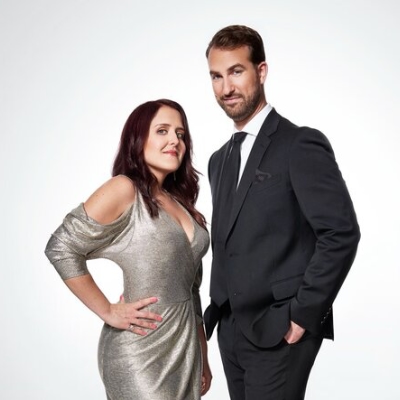 Rebecca Vigil is an actor and musical comedian headlining theatres and clubs, including Caroline's on Broadway. She can also be seen from your couch in the Netflix original movie, The Week Of.
Evan Kaufman is a writer, director and comedian. You might have seen him on Michelle Wolf's The Break or on VH1. He's also the host of a weekly web series on parenting "Dude Turned Dad" on Fatherly.
Email over your question and we'll get back to you within 24 hours. 
Also, feel free to reach out to us to brainstorm ideas that are incredibly fun, unique, and sometimes better-than-in-person!